Depeche Mode News - depeche-mode-world.de
Depeche Mode - Random Access Memory DVD
September / 28 / 2005: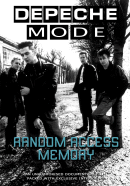 The independant record label Chrome Dreams is going to release a new DVD documentary about Depeche Mode.
The DVD includes the complete and unauthorised biography of Depeche Mode.
Also it includes interviews with the band, and friends of the band including Brian Griffin and Gareth Jones.
I have just watched the whole DVD and I think it's great.
Especially the old fotos and the interviews with the friends of the band have been interesting.
Release date for the DVD is October 25, 2005.
You can order the DVD at
Amazon.de
or at
Amazon.com
.