Depeche Mode News - depeche-mode-world.de
One Night in Paris DVD has been released
April / 27 / 2002:
Depeche Mode have released their new DVD "One Night in Paris" today.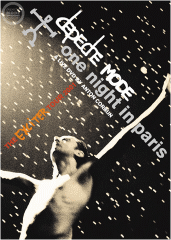 Here is the tracklisting:
Disc One features the full two hour "Exciter" show:
01 Dream On (Guitar Intro)
02 The Dead of Night
03 The Sweetest Condition
04 Halo
05 Walking In My Shoes
06 Dream On
07 When The Body Speaks
08 Waiting For The Night
09 It Doesn't Matter Two
10 Breathe
11 Freelove
12 Enjoy The Silence
13 I Feel You
14 In Your Room
15 It's No Good
16 Personal Jesus
17 Home
18 Condemnation
19 Black Celebration
20 Never Let Me Down Again
Disc two features extra bonus visuals, including:
01 A ten minute documentary about the show.
02 An Anton Corbijn Stills Gallery with audio commentary from Anton.
03 A short film of Paris fans talking about Depeche Mode.
04 Band interviews conducted before the show.
05 An extra song, Sister of Night, not included in the main film.
06 The concert projection films with audio.
07 Never Let Me Down Again, with multiple angles.
08 Martin sings a song in his dressing room.