Depeche Mode News - depeche-mode-world.de
101 DVD Released
November / 10 / 2003:
Depeche Mode have released their 101 DVD today.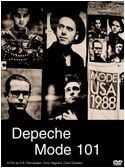 Here is the tracklisting:
CD 1
Depeche Mode 101 - The Movie
CD 2
Live At The Pasadena Rose Bowl, June 18th 1988
Master and Servant
Pimpf
Behind The Wheel
Strangelove
Blasphemous Rumours
Stripped
Somebody
Black Celebration
Pleasure Little Treasure
Just Can't Get Enough
Everything Counts
Never Let Me Down Again
Interviews with Dave Gahan, Andy Fletcher, Martin Gore, Daniel Miller and Jonathan Kessler.
Interviews with the fans.
Everything Counts official Music Video